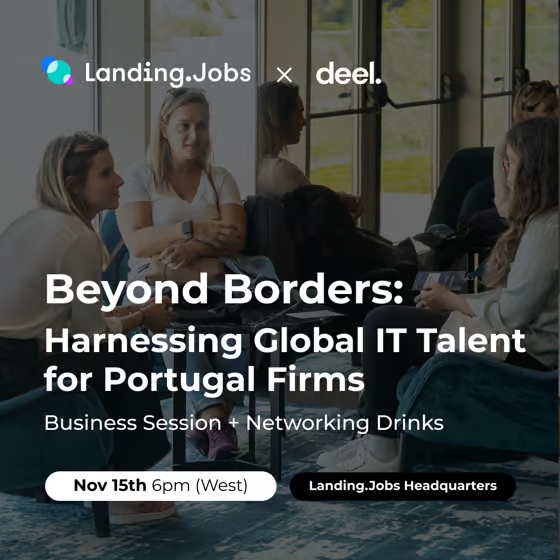 You should attend this event if you work in anything related to IT Talent in Portugal (Recruitment, Staffing, Employer Branding, etc), and don't want to to lose the opportunity to
​Understand IT Talent Scarcity reality in Portugal, as progressively more IT Professionals start to work remotely for companies across borders, reducing availability and increasing salaries. This trend is a deadly trap for Portuguese companies, and this event's goal is to discuss solutions for it.
​Hear insights from an elite panel featuring representatives from Deel (leading Global Employer of Record provider), Landing.Jobs (Global IT Recruitment and Staffing), and a Portuguese company that has successfully navigated hiring and paying IT professionals abroad.
​Learn firsthand how to leverage international resources, navigate the challenges of global hiring and payments, and retain top-notch talent from around the world.
​Forge new connections, discuss shared obstacles, and discover strategies to propel your company forward in the global IT scene.
​Have a good time in the center of Lisbon, with drinks, music and great company.
​ ​Agenda
​Seats are limited! ​Reserve your spot now and journey with us beyond geographical limits to uncover the potential of global IT talent (while having a little fun).