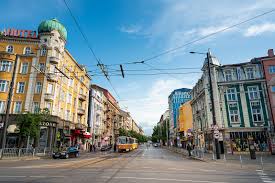 A Deep Dive into Bulgaria's Burgeoning Tech Ecosystem and Its Global Aspirations
🚀 "#BreakingGrounds: Bulgaria's Secret Rise as an Innovation Hub in Europe" will spotlight what makes Bulgaria a distinctive and advantageous ecosystem for tech innovations. You will get to meet the country's A-team of startups, venture capitalists, ecosystem builders and successful entrepreneurs that will showcase its emerging tech ecosystem, unique strengths, dynamic startup scene and abundant opportunities. The event will be accompanied by bits and bites of food and knowledge, insightful presentations, and a networking cocktail.
✨ We are eager to welcome you to this groundbreaking event, as we unveil the untapped innovation potential that Bulgaria has to offer the world. The event is welcoming ecosystem builders, government representatives, investors & business executives to explore new opportunities for future collaborations within the thriving tech ecosystem of Bulgaria. Whether you're an investor searching for the next exciting opportunity, an industry professional looking for your next collaboration or an aspiring entrepreneur seeking inspiration from success stories, here's your chance to engage with the finest in the Bulgarian tech scene.
🔊 Calling all international ecosystem builders – come and network with the key players of the Bulgarian ecosystem and let's together nurture exciting partnerships! Don't miss this unparalleled opportunity to unveil the innovation dynamics of Bulgaria and seize the opportunity to engage with the country's burgeoning tech ecosystem. Reserve your seat now to be part of the conversation that redefines Europe's tech narrative and positions Bulgaria on the global innovation stage!
Topics Highlighted
How Bulgaria's unique geographical position facilitates innovation
Investment trends and opportunities in the Bulgarian tech ecosystem
Case studies of standout Bulgarian startups and tech initiatives
Insights into Bulgaria's tech talent pool and workforce capabilities
14:00-17:00 at Hotel Tivoli Oriente, Lisbon, Portugal
NB! Places are limited to 80. RSVP to book a spot