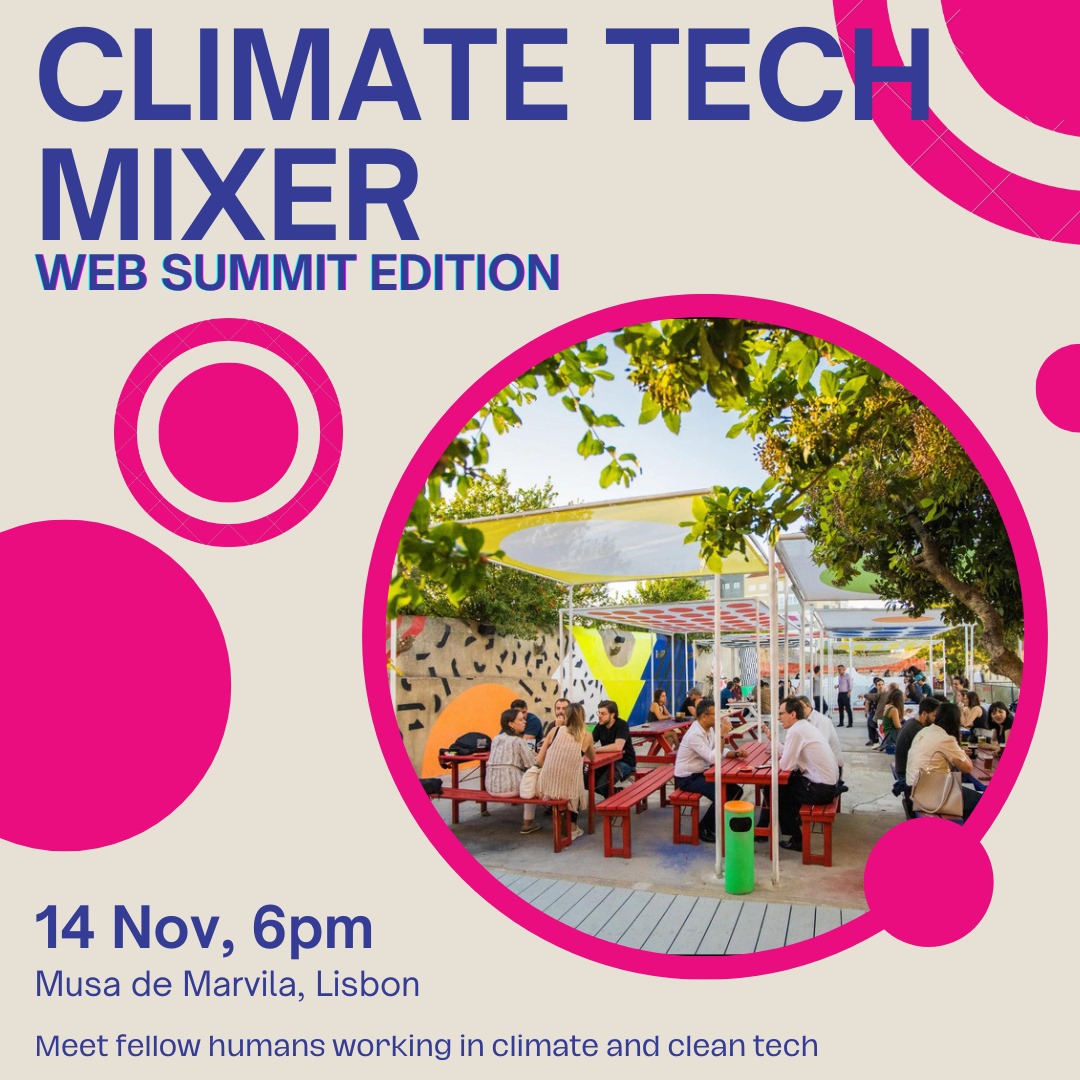 Link: Climate Tech Mixer: Web Summit Edition
Climate Tech Mixer: Web Summit Edition
​From agriculture to renewables, climate tech startups are among those out in force at this year's Web Summit in Lisbon.
​Climate tech startups exhibiting this year range from those tackling low-cost green hydrogen production and Direct Air Capture for CO2 extraction, to modular greening systems, tech-driven water conservation and ESG data.
​Want to meet founders and investors working in climate tech?
​Looking for climate tech investment opportunities?
​And/or curious to learn more about our world?
​This is a free event, and you are not required to be a participant of Web Summit
​When
​14 November, 6pm
​Where
​Musa de Marvila, Lisbon (2.8 k from Web Summit venue)
​How to get there
​Train Station: Braço de Prata
​Bus Lines: 728, 718, 781
​This event is co-organised by:
​Climate Circle Lisbon, a community of hundreds of climate enthusiasts and professionals from around the world who're living in Lisbon;
​Net Zero Insights, who's mission is to enable the transition to a sustainable future by giving decision-makers access to the leading market intelligence platform on climate innovation;
​Two Dots, an international executive agency that helps make startups investable and open doors to global opportunities, including expertise and experience specifically in the areas of climate innovation, industry 4.0, space tech, energy and mobility and more.
Location
Musa de Marvila
R. do Vale Formoso 9, 1950-277 Lisboa, Portugal