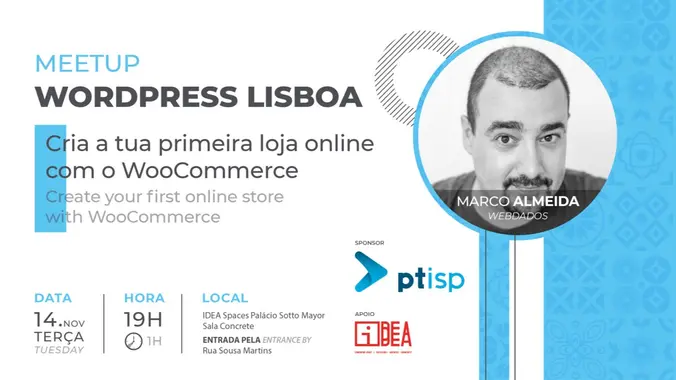 Cria a tua primeira loja online com o WooCommerce
O WooCommerce é uma poderosa ferramenta de construção de lojas online, com uma das maiores quotas de mercado a nível mundial. É uma das plataformas de comércio electrónico mais versáteis, ao alcance de todos em termos de custo e de facilidade de implementação.
Este plugin WordPress permite a criação de grandes e complexas plataformas de vendas, mas também pode ser utilizada para a criação de pequenos negócios online, bem como rápidas experiências e provas de conceito que mais tarde se podem tornar em grandes negócios.
O objectivo desta sessão é partilhar dicas de construção de lojas online para principiantes, plugins e funcionalidades essenciais, bem como melhores práticas para a implementação de uma loja online em Portugal.
Atenção, novo local: Sala Concrete do IDEA Spaces Palácio Sotto Mayor (entrada pela Rua Sousa Martins)
—
Create your first online store with WooCommerce
WooCommerce is a powerful tool for building online stores, with one of the largest market shares worldwide and one of the most versatile e-commerce platforms, accessible to all in terms of cost and ease of implementation.
This WordPress plugin allows for the creation of large and complex sales platforms, but it can also be used for starting small online businesses, as well as for quick experiments and proofs of concept that can later evolve into significant enterprises.
The goal of this session is to share beginners tips for building online stores, essential plugins and features, as well as best practices for implementing an online store in Portugal.
Attention, new venue: Concrete room at IDEA Palácio Sotto Mayor (entrance by Rua Sousa Martins)