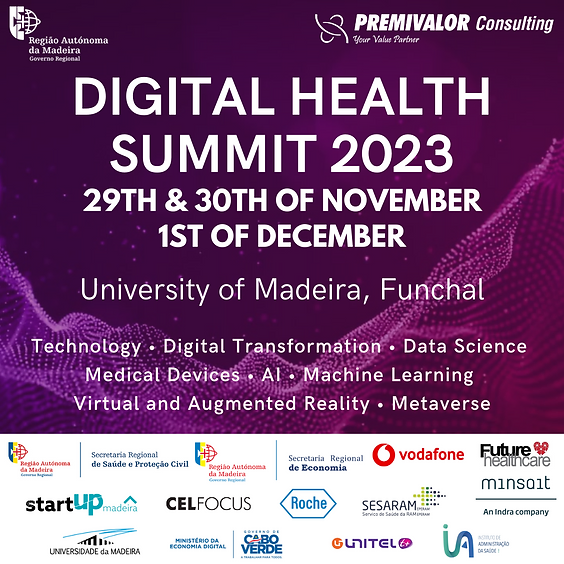 On this 2023 edition of the DIGITAL HEALTH SUMMIT, renowned experts will address the most critical topics and challenges taking place in the Health Sector, related to:
–       Digital Transformation on Health: Transforming Healthcare Through Digital Innovation
–       Safeguarding Health: CYBERSECURITY, Data Security and Privacy in the Digital Health Revolution.
–       Hospital needs and expectations towards technology and data.
–       Artificial Intelligence in Healthcare: AI applications in diagnosis, treatment, and healthcare management | challenges and risks of AI in Health.
–       ESG: Environmental, Social, and Governance, Strategies and Practices for Hospitals and Providers | The environmental impact of healthcare systems and efforts to make healthcare more sustainable.
–       The Internet of Medical Things (IoMT): Empowering Healthcare with IoT and 5G Connectivity
–       Attracting and Retaining Healthcare Talent: Effective Compensation Approaches | Addressing staffing shortages, clinical burnout, and employee retention
–       Health Equity and Access: Addressing healthcare disparities and improving access to quality care for all citizens.
–       Innovations in Medical Research and Therapeutics: New breakthroughs in medical research, including areas like regenerative medicine.
–       Mental Health and Personal wellness: Enriching mental health treatment with machine learning
–       And others!
The DIGITAL HEALTH SUMMIT is an international event in the scope of H-INNOVA – HEALTH INNOVATION HUB that constitutes a forum for debate, scientific communications, presentations and round tables that brings together the key players of the Health Sector, namely:
–       Healthcare Authorities of different countries and regions
–       Healthcare Providers particularly hospitals (public and private)
–       Technology Companies
–       Medical Devices Companies
–       Pharmaceutical Companies
–       STARTUPS
–       Universities and Research Centers
The event will also feature a FAIR EVENT where Companies, Organizations, Universities and STARTUPS can present their innovative solutions related to health and healthcare, allowing opportunities of Networking, Business Development, Knowledge Sharing and much more.
Mark your calendar for the 2023 DIGITAL HEALTH SUMMIT in Madeira!
This leading event is your gateway to in-depth discussions, cutting-edge scientific communications, dynamic presentations, and interactive round tables. Join the foremost figures in the Health Sector for an unparalleled experience!