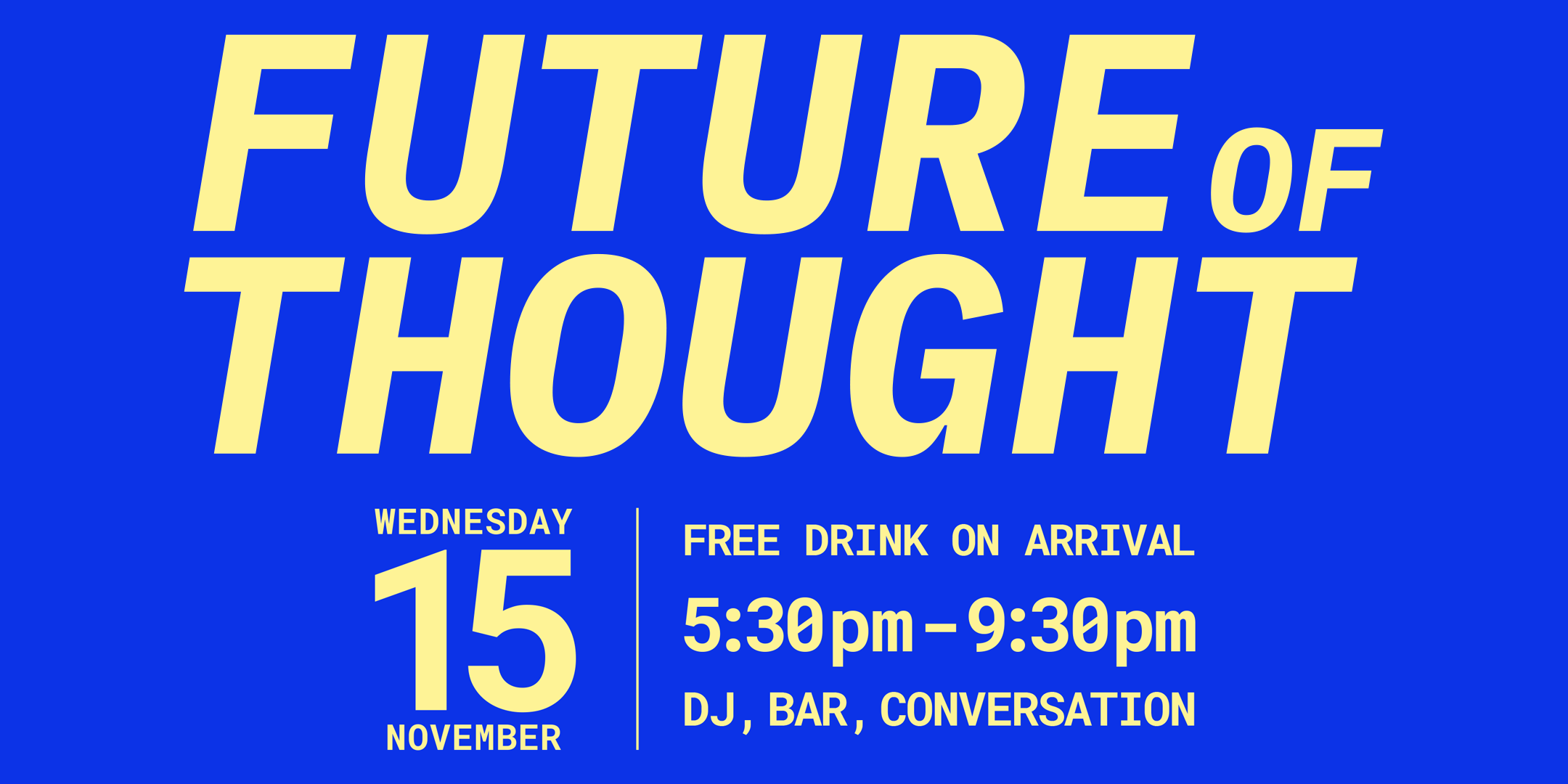 Young Digitals are proud to host and facilitate Peshkar from the UK. What is 'The Future Of Thought' – join for drinks, DJ and conversation.
FUTURE OF THOUGHT
Join us for an exciting in-person event at Second Home Lisbon, located at Mercado de Ribeira, Avenida 24 de Julho, Lisbon, Portugal. Get ready to dive into the future of thought with a diverse group of thinkers, innovators, and visionaries.
Peshkar are proud to announce an international expo of their work in Lisbon during the International Web Summit on the 15th November 2023.  Partnering with Young Digitals Global, Joao Garcia Miguel, Second Home and Tajo Magazine, three UK based artists, all with a connection to Peshkar will explore themes of social Mobility, cultural engagement, digital technology and active citizenship across the Web Summit programme and a special side event above the Time Out Square at Second Home Lisbon.
Asking the question, what is 'The Future Of Thought,' Peshkar will present a history of their digital journey over the past decade.
Tristan Brady-Jacobs
Merseyside UK based Tristan has been a participatory artist since the early 80's.  In 2009, he began his association with Peshkar helping shape their emerging aesthetic around digital technology, culture and platforms.  His work on a range of Peshkar projects between 2009 and 2012 including the 'FutureDesh Digital Arts and Climate Change'  were very much the jump off point for the evolution of Peshkar in it's current form.
Sam Rushton
Sam is a digital artist based in Todmorden, Lancashire UK and first came to prominence at Peshkar via their Creative Employment Programme 'Matchbox' in 2014.  Since then, Sam has developed his career and aesthetic in a range of settings including the 'Intermeds' Erasmus Project (2020-22) in which Peshkar collaborated with  Mindshift in Lisbon as well as range of other organisations across Spain, North Macedonia, Greece and Cyprus.
Kate Partington
Manchester based LGBTQ+ artist Kate, is currently working through a commission at Peshkar in cooperation with the Oldham Proud Trust Charity. A digital collage project entitled 'Carving Queer Perspectives,' the outcomes of which will be showcased as part of Peshkar's annual festival of digital culture in March 2024, in which she will be this years emerging young curator.
Joining the conversation will be:
Suzana Durao, Executive Director, João Garcia Miguel
Suzana Durão is currently the Executive Director of A Companhia João Garcia Miguel, a Portuguese Contemporary Theater Company with more than 20 years of activity. She is the CEO of Mockingbird, consultancy in projet management of digital transformation projects in Arts & Culture, namely at DGARTES where she has monitorized the technological modernization of support management platforms for 7 years. With an international career in global markets, she worked at large multinationals such as Avast Antivirus in Prague, with extensive experience in the areas of management, marketing and digital. Graduated in Art History (NOVA University Lisbon) and Master's student in Culture, Communication and Information Technologies (ISCTE, Lisbon) also holds a Leadership in Innovation certificate (INSEAD).
Steph Meskell-Brocken, Programmes Director, Peshkar
Steph is a UK arts manager and artist based in Bury, Greater Manchester.  Alongside her work at the Bury Met and Minerva Arts in Cheshire, she is Peshkar's Programmes Director and oversees their Artist Development programme and all aspects of their participatory work.  She has presented papers on Peshkar's work in Denmark and at the Culture Geek Conference in London, talking about the international and digital perspectives of Peshkar's ongoing models of delivery.  In addition she has co-edited three publications about the company, 'Our Teenage Years,' 'Peshkar 25' and 'Under 25 routes' – a Creative Europe funded project in collaboration with La Rambleta in Valencia and Joao Garcia Miguel in Lisbon.