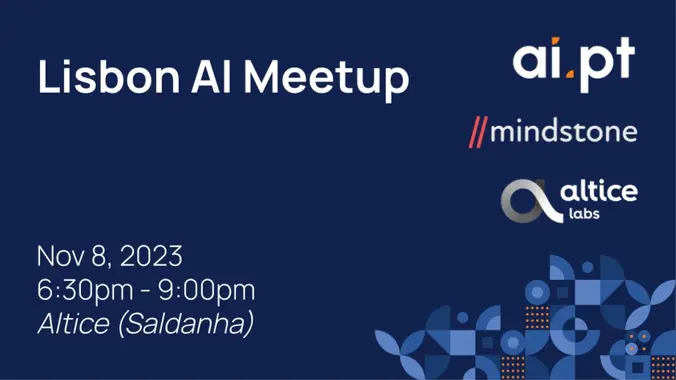 📅 Date: Wed., Nov. 8th
🕞 Time: 6:30pm – 9pm
📍 Location: Altice (Saldanha)
Av. Fontes Pereira de Melo 40, 1050-118 Lisboa
https://maps.app.goo.gl/pB1Gv1bEQ4Gtz1eFA
View Instagram highlight reel from the last Lisbon AI Meetup here:
https://www.instagram.com/reel/Cxp993nCBzg/
🤝 About the Host:
The Lisbon AI Meetup is hosted by Joshua Wöhle, CEO of Mindstone and Kunal Gupta, founder of ai.pt.
Altice Labs, since 1950, pioneers telecom tech, empowering CSPs and Enterprises in TELCO and IT. Innovation spans AI, Cloud, IoT, 5G, and more, shaping the future. Transforming knowledge into market value.
🔔 Disclaimers:
Newsletter: by registering, you are also be subscribing to Pivot 5, an AI newsletter.
Media: by attending, you consent to event videos and photos being shared on social media.