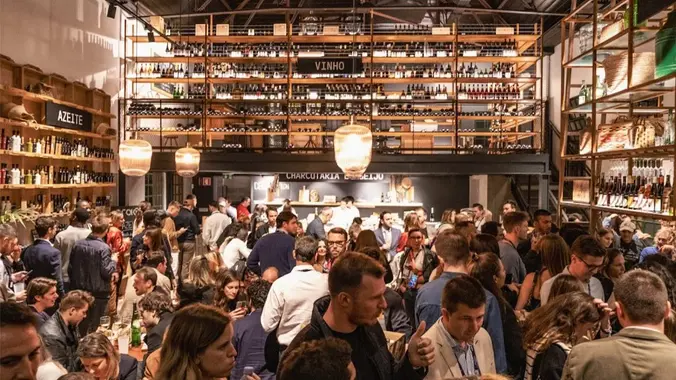 Hi everyone!
For those who are new in town, welcome!
This week we are meeting at the impressive Praca in Beato. The venue has splendid indoor and outdoor areas. A super cozy indoor vibe with an amphitheater, specialty wines from around Portugal and the world, inventive cocktails with delicious flavors, and more!
We'll be meeting with folks from Web Summit this week and the party will continue into the wee hours. Come early for Happy Hour!
Happy Hour between 7 and 8pm. 2 for one on beers and ciders so come early!
We'll chill and connect while surrounded by high quality Portuguese food and wine products that you can buy or taste right there!
There's a grill station where meats are grilled to perfection. There's an indoor amphitheater if you want to give a speech or propose to the love of your life. There's wine and cheese if you just want to have a good time. There are beers if you just want to chill.
Whatever your jam, Praca will hook you up!
Let's meet on Thursday for conversations and connection amongst the Lisbon Digital Nomads and Web Summit 2023.
About us:
We're a group of Nomads, Slowmads, Expats, and Locals who love to meet like-minded people and have a regular meetup running every Thursday since 2017! And the Nomad community is buzzing in Lisbon!
Check out our socials to see photos and get updates: Instagram | Facebook, and join our Slack community to connect with others!
We're all volunteers, these events are not for profit, and we try to find the most awesome ways to connect you on a personal and a professional level.
Join our team:
We're currently looking for talented community hosts to join our team. If you think you're up for the challenge of hosting our Thursday meetups and giving back to the community – please apply to become a host. We would love to hear from you!
Whether you're a nomad passing through Lisbon, staying for a season, living in Lisbon, or are an aspiring digital nomad, you're all welcome to join our events!
Friendly reminder
We do this for the joy it brings us when our community thrives. Our goal is that everyone feels safe, included, and welcome at our meetups, even now when our group is getting bigger. We encourage you to bring your best vibe, approach people with kindness and respect, and say hi to the new people. Remember that no one owes you anything – not a hug, a dance, a drink, a date, or a phone number. Treat other people as you would want to be treated.
Looking forward to meeting you,
The Lisbon Digital Nomads Meetup Team
PS – Join our Slack community here.
PPS – Like us on Facebook or follow us on Instagram to see photos and get updates.