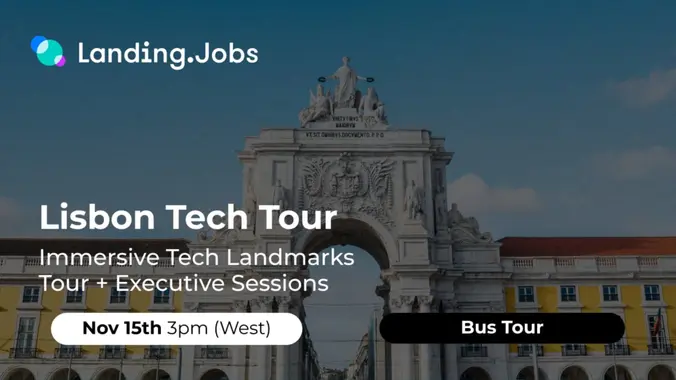 ​Lisbon Tech Tour
​Join us for a unique journey through Portugal's vibrant tech landscape.
​We'll embark on a guided bus tour, winding our way through various parts of Lisbon to explore key tech landmarks.
Along the way, dive deep into insightful topics like tech talent sourcing, tax benefits, incentives, recruitment strategies, and workspace considerations.
​Our exploration culminates in a special wrap-up at the Landing.jobs office, located in the city centre with some Networking and Drinks.
​Why join us?
​Engage in executive sessions with industry leaders.
​Interact with companies that have successfully established tech hubs in Portugal and understand their decision-making processes.
​Limited to only 40 participants, ensuring a more personalized experience.
​
​Agenda
​14:45: Gathering at Parque das Nações (bus station – Estação do Oriente)
​​15:15: Hub do Beato
– Lisbon is booming tech ecosystem – Gil Azevedo (Startup Lisboa / Unicorn Factory)
– ​Daimler Tb-Lx tech hub in Portugal – tb.lx by Daimler Truck
​​16:30: Incentives and Funding – José Abecassis – Ocean Capital
​​17:15: Landing.Jobs office
– Portugal IT Talent Market – Pedro Moura (Portugal Tech Hub)
– Extended IT Workforce Strategies – Dora Azevedo (Landing.Jobs)
18:00: Network, music and drinks!
​​Seats are limited!
​​Please register as soon as possible to ensure your seat. (while having a little fun).
​Let's forge new connections, discuss strategies to propel your company forward in the global IT scene and, of course, have some fun!