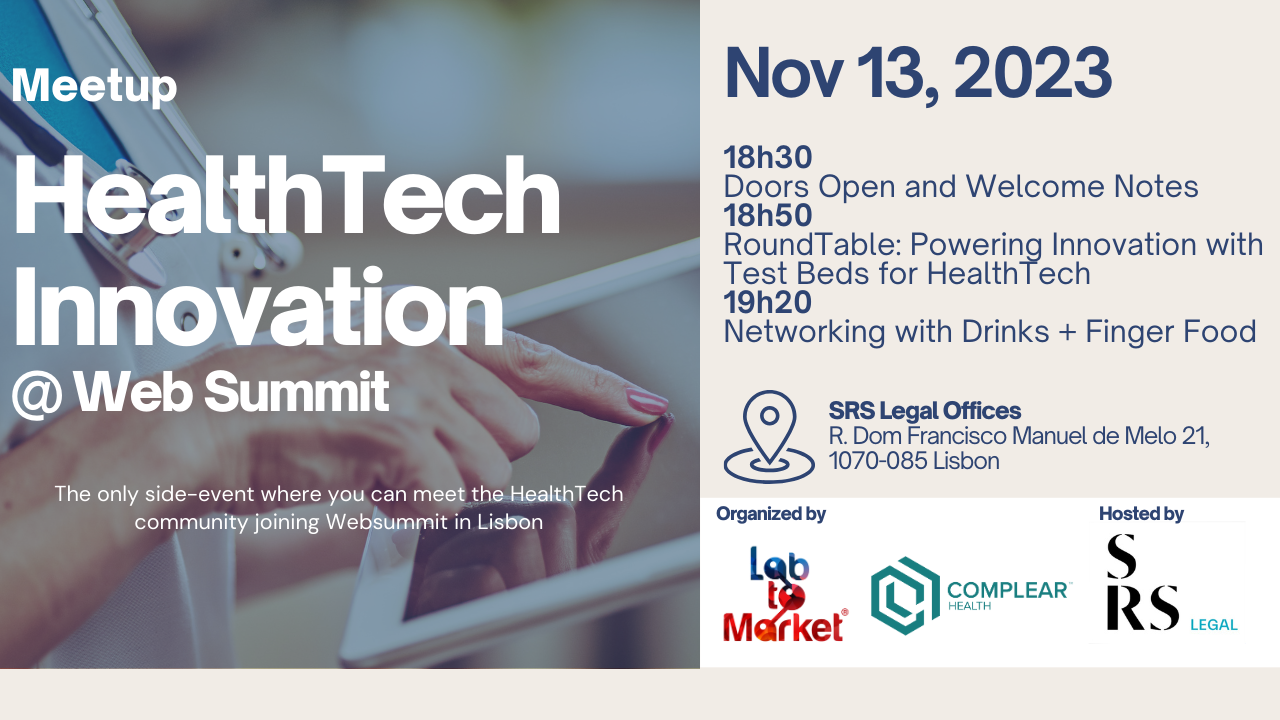 Come meet fellow HealthTech innovators on the Meetup – HealthTech Innovation @ Websummit" on November 13, 2023
Meetup – HealthTech Innovation @ Web Summit
Every year, we have hosted the only Web Summit side-events dedicated to the HealthTech Community. This year, we are hosting again an exclusive meetup to gather entrepreneurs, investors, and corporates working to shape innovation in Healthcare.
This exclusive in-person meetup will take place on Monday, November 13, 2023 at 18:30 in the vibrant city of Lisbon, Portugal, on the first day of Web Summit.
Come and discover how Test Beds are driving global innovation in Healthcare. Meet the HealthTech industry as we gather together experts, entrepreneurs, and investors from all around the world. This event aims to foster collaboration, spark new ideas, and meet groundbreaking technologies revolutionizing the healthcare sector.
RoundTable: Powering Innovation with Test Beds for HealthTech
Medtronic
Novo Nordisk
Hosted by SRS Legal, LabToMarket and Complear invite their national and international community, and those visiting Web Summit to meet and connect with like-minded individuals who are passionate about leveraging technology to improve healthcare.
Don't miss out on this unique opportunity to meet the community leading HealthTech revolution.
Limited capacity, Exclusive Event – First come, First Served
——
Organization: LabToMarket and Complear
LabToMarket is a one-stop-shop that helps researchers, startups and clinicians launch their healthcare innovations into the market and supports their growth. By offering services such as strategic advisory, market research, technology transfer, business development and planning, internationalization support and access to funding, LabToMarket has already helped +200 startups and projects across Europe.
Complear partners with Digital Health companies to bring medical device products to market, either with our boutique regulatory and compliance services for Medical Devices and IVDs focused on Digital Health and AI, either by building the future operating system for automating regulatory and compliance using a digital platform powered by Artificial Intelligence.
Host: SRS Legal
For over 30 years, SRS has provided full-service advice to national and international clients in all business areas. The firm has more than a hundred lawyers from various practice areas to respond to the needs of clients quickly, empathetically and innovatively. Through the creation of SRS Global (Angola, Brazil, Macau, Malta, Mozambique, Portugal and Singapore), as well as the creation of a strong network of international relationships with third parties, the firm aims to extend its experience, expertise and services globally so as to ensure that it can respond efficiently to complex issues with global implications.