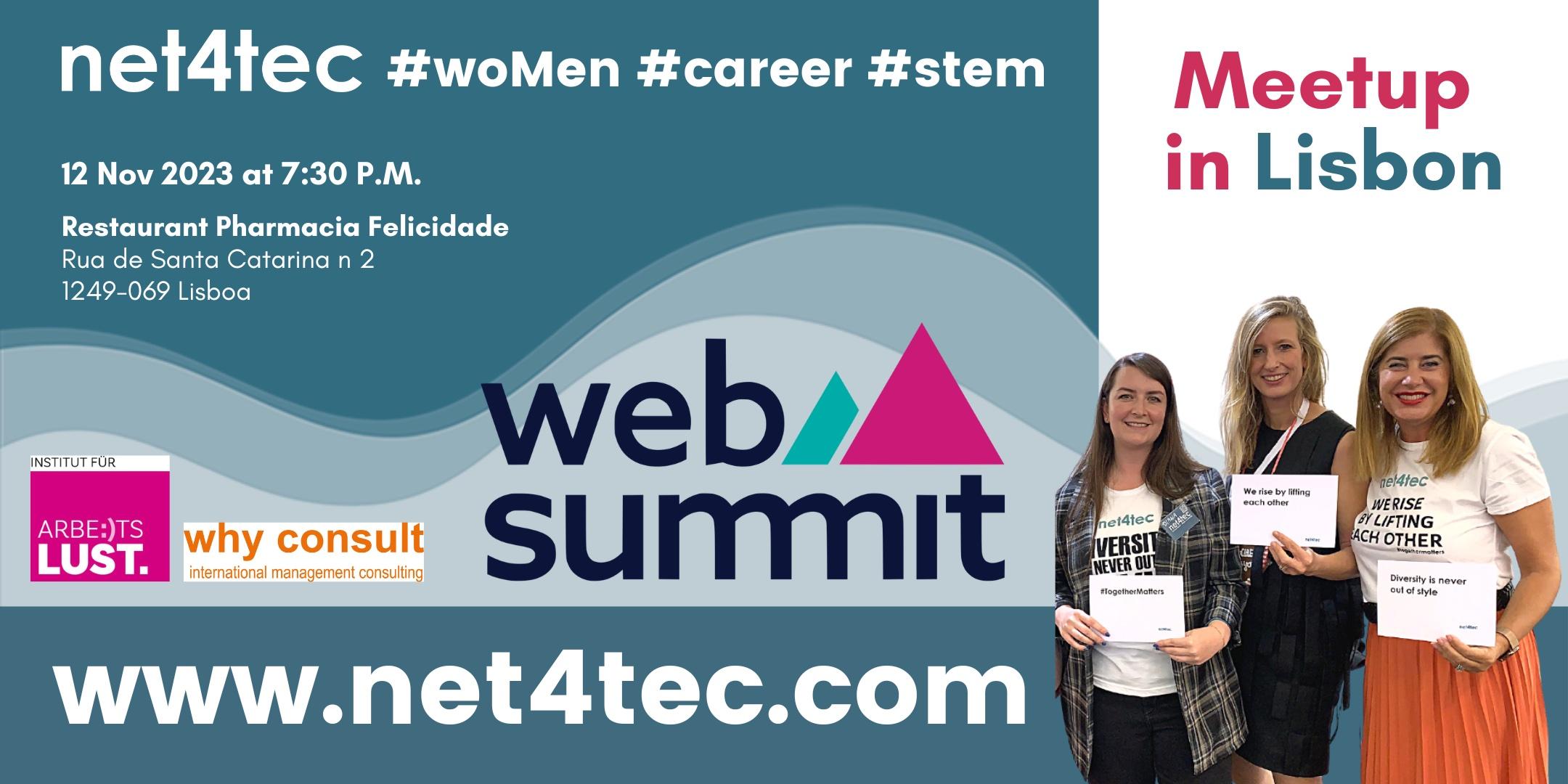 Get to know other women & men from the technology world and get inspired by their current projects, innovative ideas and diverse backgrounds
net4tec I The global network for female careers in technology.
Welcome to our networking dinner in Lisbon the day before the Web Summit starts.
They say: the Web Summit is where the future goes to be born. At a time of great uncertainty for many industries we gather the founders and CEOs of technology companies, fast-growing startups, policymakers, and heads of state to ask a simple question: Where to next?
We say: What better way to discuss the answers to this question than leveraging the power of our international community with a through a face-to-face dinner in Lisbon!
Whether you're attending Websummit or just happen to be in Lisbon: feel free to join us!
net4tec networking dinner in Lisbon
Come and get to know other women and men from the technology world, share your own story and views, connect with like minded people and get inspired by innovative ideas and diverse backgrounds. #togethermatters
What to expect?
You can expect around 20 persons from everywhere in the world, speed pitches, networking opportunities and an stunning location with separate dining room and terrace as well as fantastic food.
Where? Restaurant Pharmacia Felicidade, Bairro Alto
When? 12 of November, 19:30 Hrs
With your registration you commit yourself to attend our dinner.
In order to make the organization as lean as possible we have already arranged everything with the restaurant.
Price for 3-course-menu including drinks and room value is at 69,00 € per person.
This event is co-hosted by Why Consult and Institut für Arbeitslust
++ 𝗔𝗯𝗼𝘂𝘁 𝗻𝗲𝘁𝟰𝘁𝗲𝗰 ++
net4tec is the global network for female careers in STEM.
We are a relevant, powerful and engaged network of women and men from the STEM world with a bold mission: To close the gender gap in the technology world by lifting female careers with the power of the community.
We connect female talents with executives and companies and support careers across all stages of life. More women at all management levels means greater innovative power and higher competitiveness in the company. Because together matters.
net4tec is part of the Why Consult global ecosystem including networks, intiatives, business schools, companies, institutions and experts with competences in the fields of Diversity&Inclusion, Innovation, Business Transformation, Agility and People&Culture.
Find out more on our website: www.net4tec.com
Your net4etc team