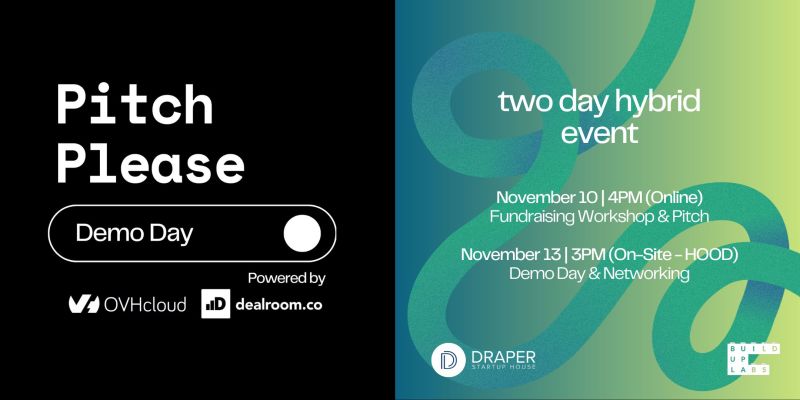 ​📅 Event Date: November 13th, 3 PM – 6 PM
​📍 Location: HOOD, Lisboa
​🔥 Colliding with Web Summit Week 🔥
​Pitch Please, by Draper Startup House and Build Up Labs and powered by OVHcloud and Dealroom is here to empower your idea and provide the platform to showcase your innovation.
​📝 What's in Store for You:
​🚀 On-Site Demo Day
​🤝 Networking Session
​The long-awaited 6th edition of "Pitch Please" is about to happen, this time with the prominent support of OVHcloud and Dealroom. Build Up Labs and the Draper Startup House team are joining forces once again to offer six early-stage startups the opportunity to participate in an exciting workshop on fundraising in collaboration with the Micro Fund DSH Ventures.
​The event dates coincide with the Web Summit, which promises to add even more shine to the event, as there will be a significant presence of international startups and investors in Lisbon.
​"Pitch Please by OVHcloud & Dealroom" represents an unmissable opportunity for startups. The event is completely free for both participating startups and attendees. Additionally, the networking session will feature free drinks and food, providing an conducive environment for idea exchanges and valuable connections.