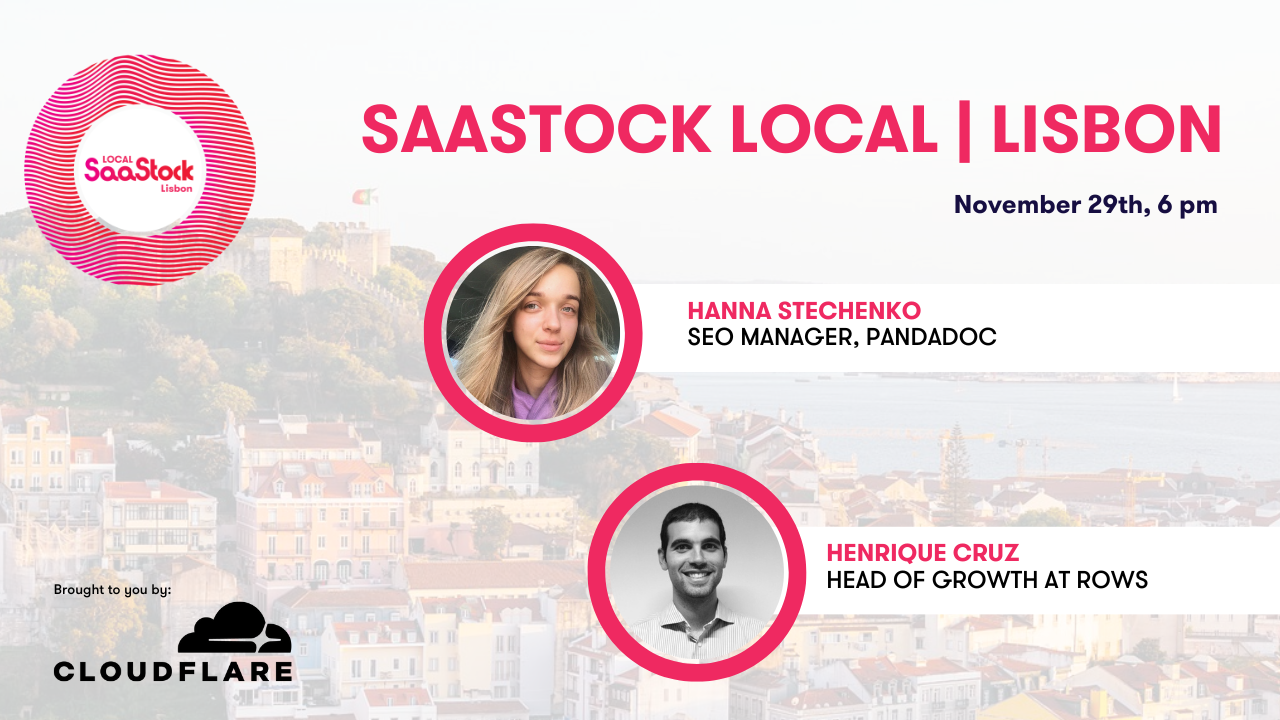 SaaStock Local Lisbon – November 2023
Welcome to the first edition of SaaStock Local Lisbon 2023 🎉
Speakers:
🎙 Hanna Stechenko is a Manager, SEO Management at PandaDoc, responsible for building and leading SEO Content. For the past years, her focus has been on developing SEO Content direction, from crafting strategies & building consistency in content creation to working cross-functionally with other teams to bring PandaDoc content to the next level.
How PandaDoc doubled its SEO performance in a year Dive into content clusters with PandaDoc. This session is dedicated to marketers, managers, and website owners who plan on developing an SEO Content strategy to align with audience interests, drive SEO growth, and establish authority in their industry.
In this session we'll cover: – Why building a strategy before any actions is important – A real-life example of how PandaDoc implements content strategy – Analysis of the SaaS copy: What performs in the SERP and what doesn't – An inside look into the growth of PandaDoc contract cluster
🎙Henrique Cruz is the current Head of Growth at Rows. Henrique has over 5 years of experience in product management and marketing. Before joining Rows, Henrique was the Head of Product at Veniam. There he was responsible for as responsible for product management, marketing, and go-to-market strategy
No homepage? No problem.Why Rows removed their homepage, doubled the conversion rate, what they learned, and what's next.
Sponsors:
☁️ Cloudflare
Event details:
📅 Date: November 29th | 6:00 to 10:00 pm
📍 Location: Cloudflare Lisbon offices, Praça Marquês de Pombal 14 7th floor, 1250-162 Lisboa
💼 What: Deep dives and networking with the Portuguese B2B SaaS community
🔠 Language: the event will be entirely held in English
💸 Ticket prices:
Super early bird: €10 – Until November 5th
Early bird: €15 – Until November 19th
General attendance – €20
About the event:
Connect, collaborate, and cultivate relationships that drive SaaS growth and innovation. Ignite your networking prowess at SaaStock Local Lisbon and be part of shaping the future of SaaS success. Your next breakthrough connection awaits!