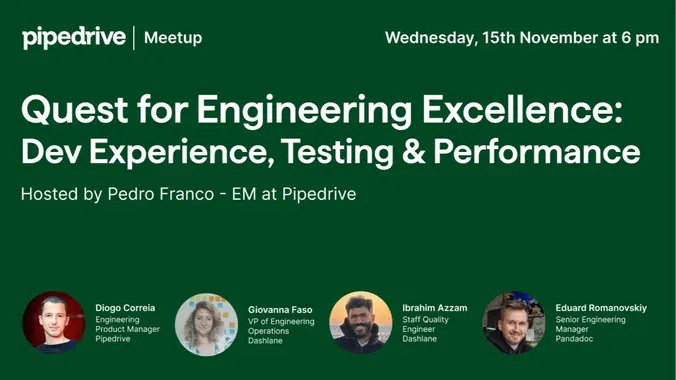 Event:
We would like to invite you to our last Lisbon Pipedrive Engineering Meetup for 2023!
In this event, we will have another episode on the ongoing quest that different companies have taken in order to achieve Engineering Excellence. Different companies follow different paths, there isn't a single way to reach it, and no silver bullet.
In this episode, we will dive into the several aspects of software delivery including how to elevate the development experience of software teams, the creation of a culture of quality through software testing, and how to achieve top-notch service performance in ever-growing software companies.
We will be having three different talks, followed by a networking session, have some 🍕 and 🍺 while exchanging ideas and engaging with the community.
——————————————————————————————————-
Talks & Speakers:
🔈 Talk 1 – Redefining Pipedrive DX: From Local to Cloud Dev Environment in One Year
Diogo Correia, Engineering Product Manager – Pipedrive
In one year, Pipedrive shifted from an inefficient local setup to a robust cloud-based development environment. Diogo will delve into the strategies deployed by our DevOps Tooling team to reduce waste, increase efficiency, and simplify the development process. Learn how we did it and what you can apply for your own teams.
🔈 Talk 2 – Testing strategies, tooling, and fear of the unknown
Giovanna Faso, VP of Engineering Operations & Ibrahim Azzam, Staff Quality Engineer – Dashlane
As companies scale, they start becoming more formal about their testing practices. Some embark on a "TDD or go home" practice whilst others prefer to use softer tactics of incentivizing a culture of quality. Regardless of which way this goes, all respectable companies of a certain size need a Testing Strategy in place. When to test, how to test it, and with what repercussions, is the bare minimum strategy needed, but building consensus around one and making sure it is adopted is where most of your efforts will go. Giovanna and Ibrahim will share how Dashlane has done it, navigate us through some variations, and share our pitfalls and successes with you.
🔈 Talk 3 – PandaDoc's Application Performance Journey: Elevating to higher standards
Eduard Romanovskiy, Senior Engineering Manager – Pandadoc
The PandaDoc application has a rather complex UI logic, including online collaborative editing and thousands of scenarios. It is very easy to degrade the speed of some of these scenarios. Eduard will cover how PandaDoc improved the speed of the key scenarios threefold, what tools have been used for it, and the challenges we faced. In addition, he will share how we maintain such a level of performance and do not degrade during new contributions.
——————————————————————————————————-
Agenda:
18:00 – 🍕 Doors open, food and drinks ready
18:30 – 🔈 Talk 1 by Diogo Correia, Engineering Product Manager at Pipedrive
19:00 – 🔈 Talk 2 by Giovanna Faso & Ibrahim Azzam, VP of Engineering Operations and Staff Quality Engineer at Dashlane
19:30 – 🔈 Talk 3 by Eduard Romanovskiy, Senior Engineering Manager at Pandadoc
20:00 – 🍻 More food and drinks, networking
Where:
The Meetup will happen in the new Pipedrive office at Saldanha!
The presentations will start promptly at 18:30.
——————————————————————————————————-
About us:
At Pipedrive we love building great products while having fun doing it!
It all started with a five-person team to a truly international company of over 900 people, representing more than 50 nationalities with ten offices distributed across Europe and the US.
We work daily to be the #1 sales-first CRM and intelligent revenue management platform for small businesses in the world.
Today, Pipedrive is trusted by over 100,000 companies and used in 179 countries.
We have been learning a lot along the way and we started Pipedrive Talks Lisbon to contribute to the community by sharing our learnings and also some of our pitfalls, our unique ways of working, technologies, and systems that fuel Pipedrive daily.
Let's make this journey together. We grow by sharing and learning from each other.
About Us | Linkedin | Instagram | Facebook