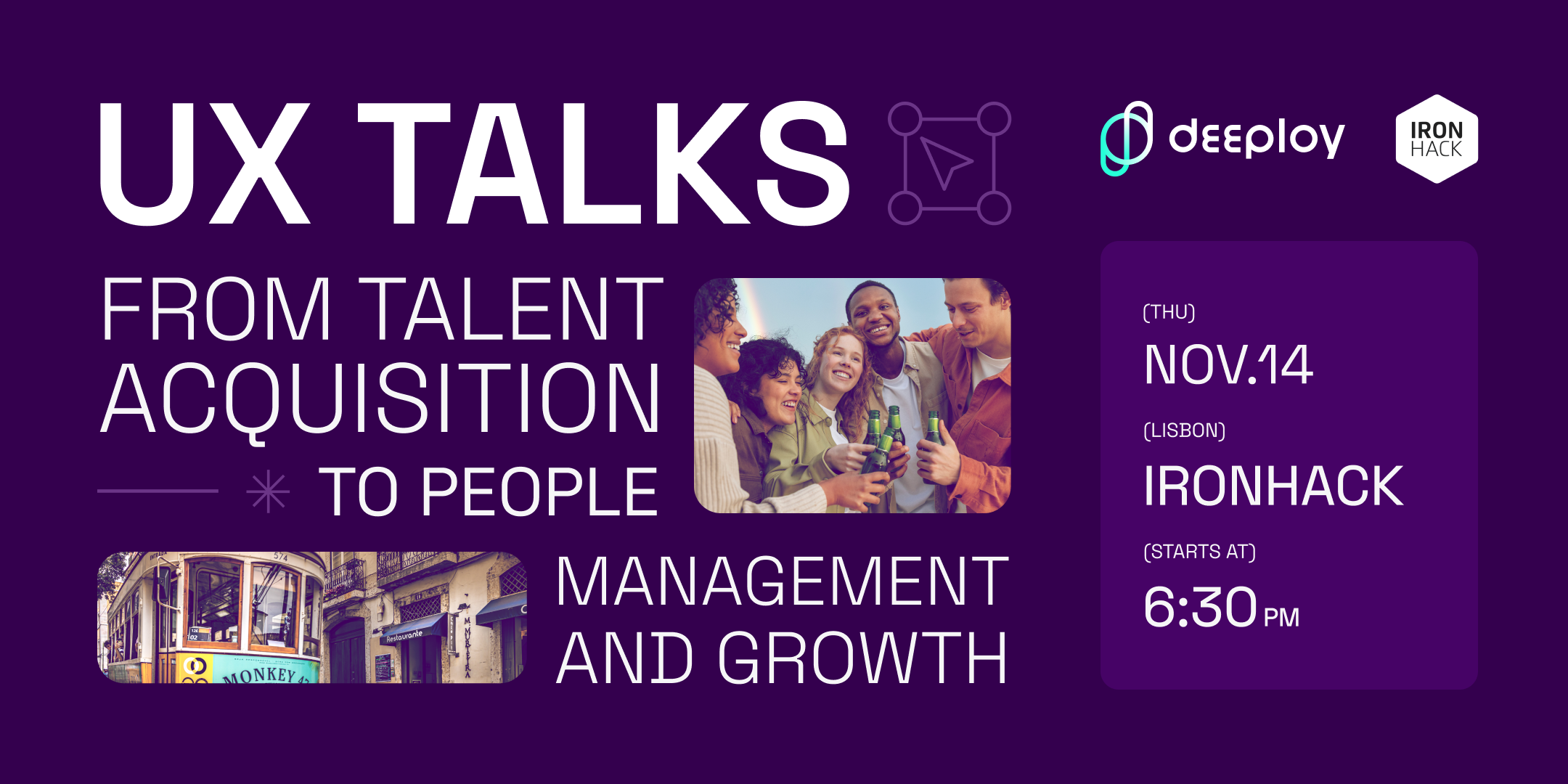 Join us at this event to learn, network, share your experience and have a great time with the Portuguese UX Community with food and drinks
Deeploy and Ironhack Portugal invite you to a new event!
Join us at this event, where we'll learn, network and share our experience with a lot of interaction between the public and the guests. It is an event with food, drinks and good people from the Portuguese UX Community! 🍻
Main addressed topics

The UX Design maturity scenario in European companies
Leadership and management of UX Design teams in different contexts
Attraction and retention: The challenges of dealing with the UX talent race
How to manage possible layoffs, remote work and back-to-office policies
Created by Deeploy and Ironhack Portugal
In a fantastic place with extremely easy access in Lisbon, you're going to enjoy a remarkable evening with drinks and a talk about the UX Design scenario. What are the challenges that UX Designers and companies face to push the boundaries of the UX Market? In this talk, guests are bringing their experienced vision about UX Design management and leadership, so you can learn different methods to make this happen within your Design Team. This event is for UX Design professionals of all expertise, from students to leaders, who look to understand the challenges of building and being part of Design Teams with highly diverse people. About the organizers
Who is Deeploy?
Deeploy is a global company with offices in America and Europe, we're a group of compromised individuals who believe in the power of UX Design for value generation and in human-centred recruitment as the foundation for building solid products, with an exclusive platform for hiring UX Designers. Learn more: https://deeploy.me/en/.
Who is Ironhack?
Ironhack is a global EdTech startup that has been disrupting education since 2013, with 14 campuses and a growing community across the world. Trusted by hundreds of Fortune 500 companies, SMEs, startups, and agencies, Ironhack helps companies hire and develop corporate talent and elevate the diversity of their workforces. They don't just help you fill your vacancies at scale, they also help you identify which skills and applicant profiles you need to drive your mission forward. Learn more: https://www.ironhack.com/pt-en.
Important note: this talk is not affiliated with the Web Summit event.