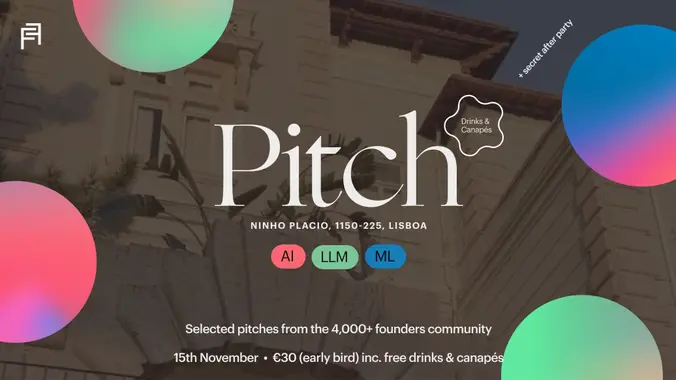 Discover Future Unicorns! Join us at NINHO PALACIO, where we're scouting the next big investment opportunities in the heart of Lisboa.
Elevate your startup portfolio with an evening of cutting-edge ideas, visionary pitches, and networking under the setting sun.
🌇 Sunset drinks from 19:00 to 20:00
Room One: 🚀 Dive into 20 rapid-fire 10-minute pitches, followed by 10 minutes of insightful Q&A, as we search for the startups poised to become the next unicorns.
Room Two: 🎧 Groove to the beats of DJ Bongo chops as we infuse tech energy into the atmosphere.
Terrace: 🌐 Connect and expand your network on our sleek terrace overlooking the city.
This exclusive event requires tickets, and they will be available soon! Secure your spot and be part of the future unicorn hunt.
Founders, seize the opportunity: 📢 Call for entries: https://forms.gle/n137SSzYyNyfLP8f8
Investors, don't miss out: 📈 Investor access: https://forms.gle/BWCzuQrhQcTSSCzFA
—
For tickets join the waitlist and we will update by email! https://www.futurefounders.me/join