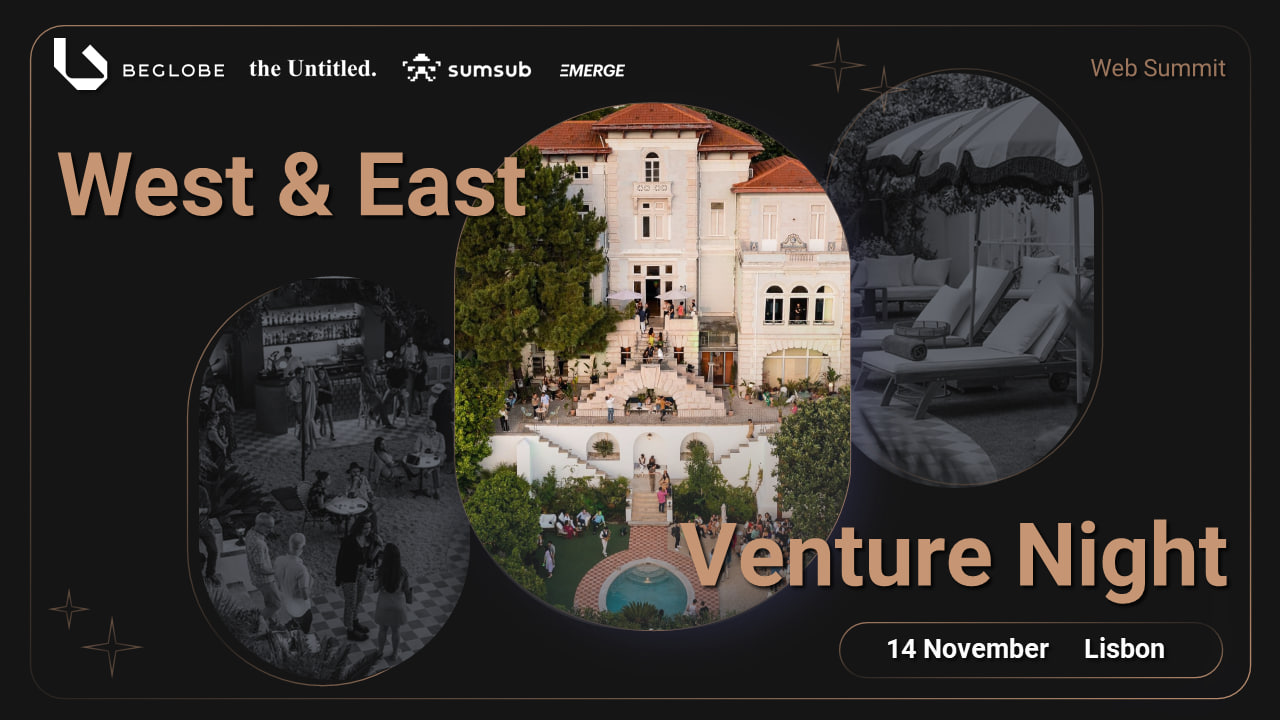 BeGlobe is thrilled to announce the return of its renowned annual WEST & EAST VENTURE NIGHT set to take place in Lisbon on November 14, 2023. This year, the event promises to be bigger and more impactful than ever before, gathering unicorn founders, venture capitalists and tech enthusiasts at the exquisite Palazzo El Ninho.
6th West & East Venture Party, as usual, offers a platform for discussing upcoming trends and fostering extensive networking opportunities, showcasing the synergy between visionary entrepreneurs and investment leaders. Since 2017, BeGlobe has upheld its tradition of hosting the "WEST & EAST VENTURE NIGHT" during Web Summit, and it has become an exclusive gathering of the tech community with over 2500 members.
The event's idea revolves around creating an exclusive gathering for venture capitalists and late stage startups. In a relaxed setting, attendees will engage in discussions about upcoming tech investment trends for the upcoming year. Additionally, they will have the opportunity to showcase their new funds and attract limited partners (LPs) through presentations and networking sessions.
We are proud to have the support of our partner for this year's event — Sumsub, a global verification platform, is hosting an interactive media dinner that will delve into the captivating world of AI trends and the alarming challenges posed by deepfake technology. This event will feature exclusive internal insights shared by Pavel Goldman-Kalaydin, Head of AI & ML at Sumsub, and Nicole Alexander, Global head of marketing at Meta, joined by the top industry experts. The discussion will be chaired by Mike Butcher, editor-at-large of TechCrunch and founder of The Europas and Pathfounders.
Introducing a new format: West & East Venture Night presents reverse pitching!
This year our event will change the usual format: representatives of funds will take the stage to present themselves to potential LPs.
Traditionally, our event has been the premier meeting place for late-stage startups and unicorns. In partnership with EMERGE, BeGlobe offers VCs a unique opportunity. It's a chance for them to shine with their elevator pitches demonstrating the excellence they demand from startups. Hurry up, as we only have 10 spots available! Grab yours today!
What to Expect:
Place: Palazzo El Ninho – a 19th-century palace reimagined to provide an ideal setting for networking and collaboration.
Experience: Immerse yourself in the vibrant atmosphere of Lisbon as you network over Portuguese wines and tapas.
Purpose: Engage in insightful discussions about the future strategies of European venture capital funds for the upcoming year.
Performance: House of Pitch, where every pitch gets a clear 'Yes' or 'No' answer.
This year's guest list boasts an impressive lineup, including approximately 300 late-stage startup founders, 150 international investors and at least 20 prominent journalists. Previous editions of the event have seen the participation of industry luminaries such as Nik Storonsky of Revolut, David Yan of ABBYY, Mary-Ann Russon of NBC News, Thomas Meier of Verve Ventures and Konstantin Siniushin of the Untitled Ventures.
For media inquiries, partnership opportunities, or event details, please contact: Julia Sabitova ([email protected])
BeGlobe is an international PR agency for tech companies & venture funds. We help companies to establish external communications in the UK, Europe, Switzerland, the US & Central Asia.
Sumsub is a global full-cycle verification platform that secures the entire user journey and provides robust protection against AI-generated fraud with its innovative, in-house deepfake detection technologies. Sumsub has over 2,000 clients across the fintech, crypto, transportation, trading, e-commerce and gaming industries including Binance, Mercuryo, Bybit, Huobi, Unlimit, DiDi, and TransferGo.
EMERGE community-focused platform to connect startups and tech talent from emerging markets with global opportunities.
Supported by the Untitled Ventures, an early growth stage fund specializing in breakthrough technology companies from Europe.