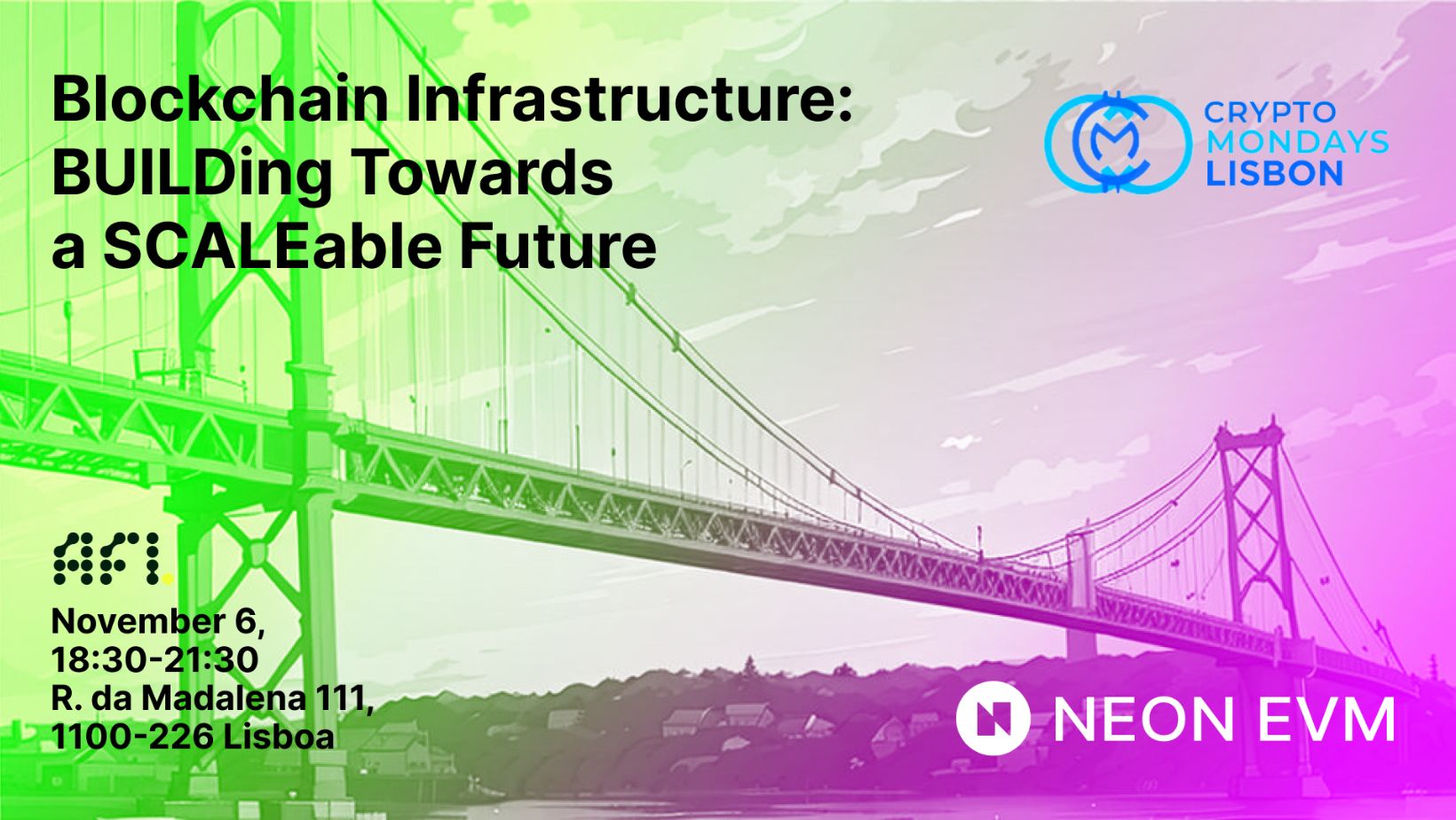 We invite you to CryptoMondays Lisbon and ​​Neon EVM ETH Lisbon closing event! Join for networking and pizza and to explore the latest developments in blockchain and Web3 infrastructure!
​- Hear the presentations from some of the leading experts and visionaries in web3 and learn about the latest advancements, challenges, and emerging technological trends.
​- Connect with fellow developers, blockchain and industry leaders and forge valuable relationships that can lead to collaborations, partnerships, and new opportunities.
​- Savour complimentary pizza and beverages, and vibe to the awesome live DJ tunes by DJ Patrick Hallén while mingling and networking.
​Whether you're a blockchain developer, a tech enthusiast or an investor, this event offers a distinctive opportunity to delve into the transformative blockchain technology!
​Agenda:
​6.30pm Arrival & Drinks
​7.20pm Presentations
​8.00pm Pizza & Networking & DJ Patrick Hallén
​9.30pm End of the event
​Presenters:
​Yuriy Yurchenko, CPO at Neon EVM
​Altan Tutar, Partner Engineer at NEAR
​About CryptoMondays Lisbon
​With 30 000+ members and 50+ locations, CryptoMondays is one of the world's largest community focused on web3 & live events. We believe that "community" is the driving force of crypto/web3, and that IRL events provide unique opportunities for community members to network and learn from each other. ​ ​
​Our mission is to increase engagement for web3 and blockchain innovation through live events in every city in the world. ​ We promote blockchain literacy and adoption amongst the global community for a more sustainable and healthy ecosystem.
​About Neon EVM
​Neon EVM is a solution for anyone looking to scale Ethereum dApps on Solana in a developer-friendly manner and tap into Solana's vibrant ecosystem. It is a fully Ethereum-compatible environment on Solana.
​About NEAR
​NEAR is a a layer 1 blockchain that uses a Proof-of-Stake (PoS) consensus mechanism and sharded architecture to scale transaction throughput. It's currently #3 mostly used blokchain after Tron and BNB with consumer applications that have reached to 1M+ active users such as Cosmose.ai and Sweatcoin.
​About Afi+ Network
​AFI+ Network purpose-driven innovation hub spans across a state-of-the-art co-working environment, designed to stimulate collaboration, creativity, and the drive to disrupt the status quo. With a rich legacy in accelerating ideas and cultivating success stories, we stand as the nexus between raw talent and market-defining solutions. Dive into our world, where every entrepreneur is a pioneer, and every idea has the potential to reshape industries.
​About FMR Brands
​​FMR Brands offers a wide range of services, including food and beverages Product Development, Brand Merchandising, Retail Consulting and Training. Our insight and expertise offer a valuable resource that can be counted on for every stage of a product's journey, formulation and ingredients, manufacturing a cost-effective product and unparalleled market research. We aim to take a unique beverage dream and make it a reality.
​SAVG Lyf Hard Kombucha drinks are a premium drinking experience with primarily natural ingredients. The kombucha and alcohol combination is a bold choice for those wanting to venture into a little bit of fun while taking care of their gut.