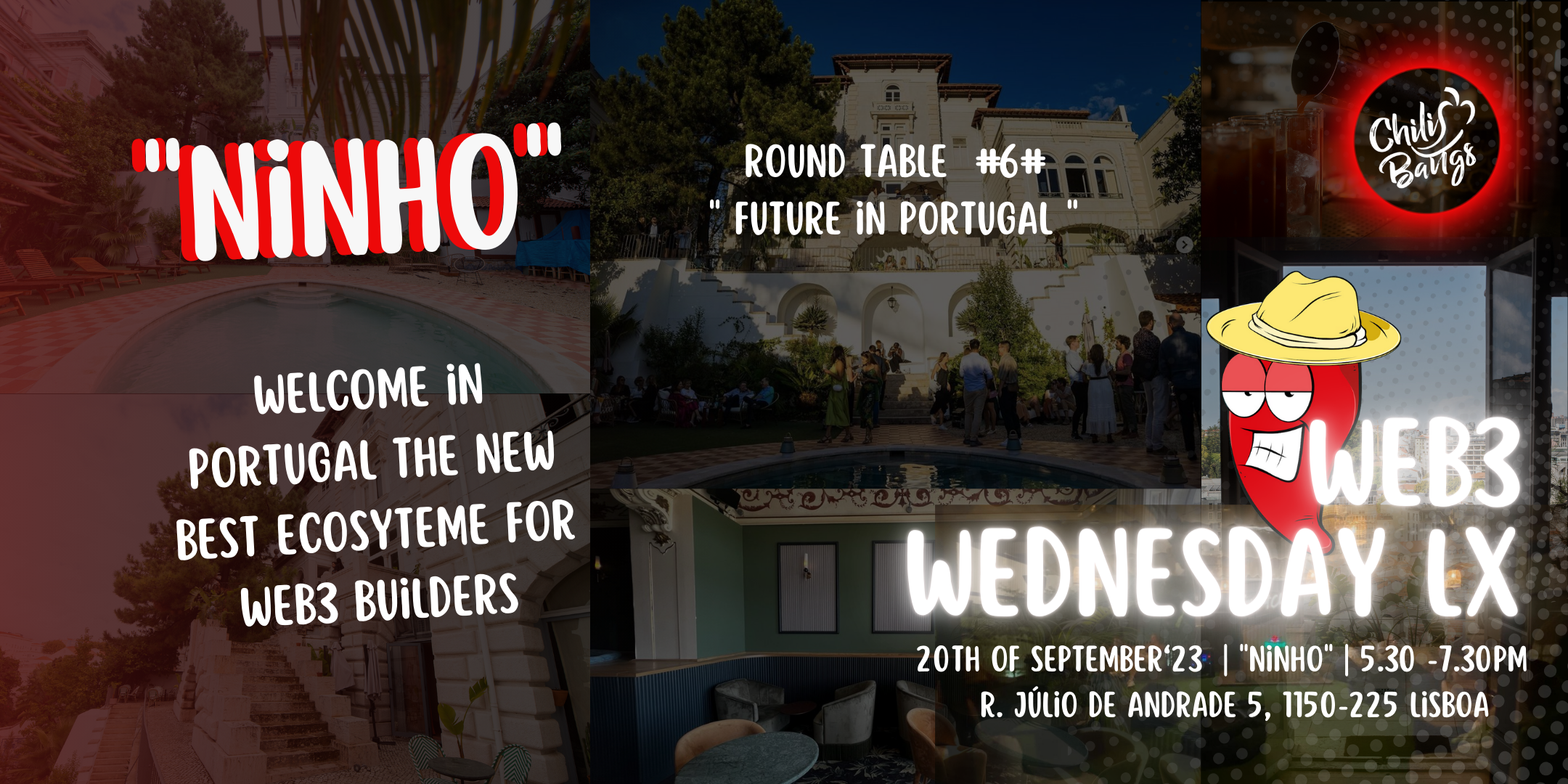 Web3 Wednesday Lx -Join the bigest Web3 meetup in Portugal & let's make it spicy!
📢 Calling all Web3 enthusiasts worldwide! We're excited to announce that the popular "Web3 Wednesday Lx" has evolved into "Web3 Wednesday Worldwide"! Prepare for a groundbreaking event that unites the global Web3 community! ✨
🎉 To celebrate this momentous occasion, we've launched an exclusive NFT collection! Explore our captivating NFTs on OpenSea, reflecting the essence of the Web3 Wednesday Worldwide experience. Become a part of our vibrant digital art movement by collecting yours today! 🖼️💫
🔗 Stay connected with all things Web3 Wednesday Worldwide by bookmarking our official website and following us on various social media platforms:
Hello Everyone! 😊
It's always a real and great pleasure to organize Web3 Wednesday for all of you. ❤️
🔹 A captivating Round Table discussion and Chill Network
THis edition is more Chill and Today you have a great Party in Ninho too with polkadot where i invited all ChiliBangs to join and support Sub0 🙂
Find the link for Sub0 in the eventbrite or in the telegram Chat.
Reserve Your Spot 🎟️
Secure your spot now! Ticket reservations are open. And remember, those with the ChiliBangs NFT will enjoy special discounts. Don't miss out! ⚡
Get ready for a night of spicy discussions, cutting-edge insights, and unforgettable networking. Let's ignite the Web3 revolution together! 🚀🔥🌐 #Web3WednesdayLx
– ————————————————————————————————–
🌐 Website: https://chilibangs.com/
📱 Social Media:
TW: https://twitter.com/chilibangs
TG: https://t.me/chilicommunityhttps://t.me/web3wednesday
I G: https://www.instagram.com/chilibangs/
🌟 Join the NFT Collection: https://opensea.io/collection/chili-caliente-1
🙌 We can't wait to see you at Web3 Wednesday Worldwide! Get ready for an unforgettable experience, leaving you inspired, connected, and empowered to shape the future of the decentralized world! Together, we'll unlock the full potential of Web3 technologies. 🚀🌐
#web3 #Web3WednesdayWorldwide #crypto #NFTs #blockchain #decentralized #ChiliBangs #web3community