The largest Portuguese-language technology meeting is back with over 150 scheduled events and record numbers​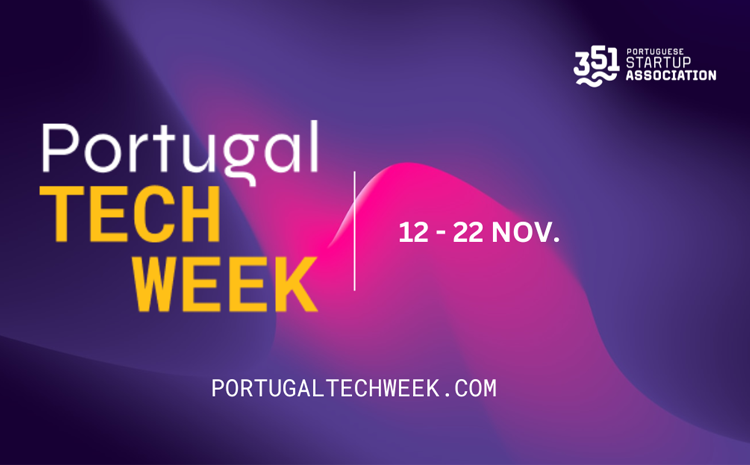 The largest Portuguese-language technology meeting is back with over 150 scheduled events and record numbers
The event takes place between November 12 and 22 Lisbon, Porto, Faro, Braga, Guimarães, Fundão, Aveiro, Funchal, Leiria, Coimbra, and Lagos will host events from Portugal Tech Week
Portugal Tech Week, the event that promotes Made in Portugal technology and covers the most national territory, which takes place from November 12 to 22, has a program full of new features. This year's edition has already surpassed the numbers from the previous one and will take place in 9 cities across the country, with over 150 events already scheduled and more than 15,000 registrants than in 2022. Portugal Tech Week has become a benchmark for the national tech community and promises to exceed expectations.
With the goal of boosting Portugal's technological ecosystem, Portugal Tech Week will take place in several cities across the country, demonstrating the continuous growth of the technology and innovation communities. With events scheduled in cities such as Lisbon, Porto, Braga, Faro, Aveiro, Fundão, Guimarães, among others, Portugal Tech Week aims to strengthen the connections between different regions of the country, promoting collaboration and the development of innovative technological solutions.
Among the main initiatives of Portugal Tech Week, we highlight the VC Slam, the Technology Innovation Scholarships (Santander and Mexoxo) , and the Coworking Days.
The VC Slam (Venture Capital Slam), supported by Semapa Next, is an opportunity for startups and entrepreneurs to present their innovative ideas to a panel of high-level investors. In addition to presenting their project, entrepreneurs will have the opportunity to receive valuable feedback, network, and possibly attract investors to accelerate the growth of their project.
Portugal Tech Week recognizes the importance of supporting the bright minds that will shape the future of technology. Therefore, in partnership with Santander and Mexoxo, scholarships for study and research will be offered to talented students and professionals who wish to contribute to the country's technological advancement.
During Portugal Tech Week, on Coworking Days, various companies, such as Microsoft, Santander, and Smartex, will open their doors to the startup and entrepreneur community so that, together, they can take the opportunity to promote networking, knowledge sharing, and collaboration.
Throughout Portugal Tech Week, various coworking spaces will open their doors for free to promote collaboration and sharing, providing an excellent opportunity for participants to work on joint projects and network.
The 2023 edition of Portugal Tech Week registers a significant increase in the number of scheduled events, covering a wide variety of topics, from artificial intelligence to blockchain and sustainability. Currently, with over 150 scheduled events, and with the expectation of exceeding 200 events, the entire country will be discussing technology for 10 days.
For the convenience of participants, Portugal Tech Week has created several partnerships that promote mobility and adherence of those interested, namely with CP (Comboios de Portugal) with tickets at 2€ on urban trains in Lisbon and Porto and a 30% discount on intercity and regional/inter-regional trains to and from cities hosting events. Tickets can be purchased only at CP stations upon presentation of the ticket for Portugal Tech Week.
All information about the program, schedules, and locations of events is available on the official Portugal Tech Week website at www.portugaltechweek.pt.